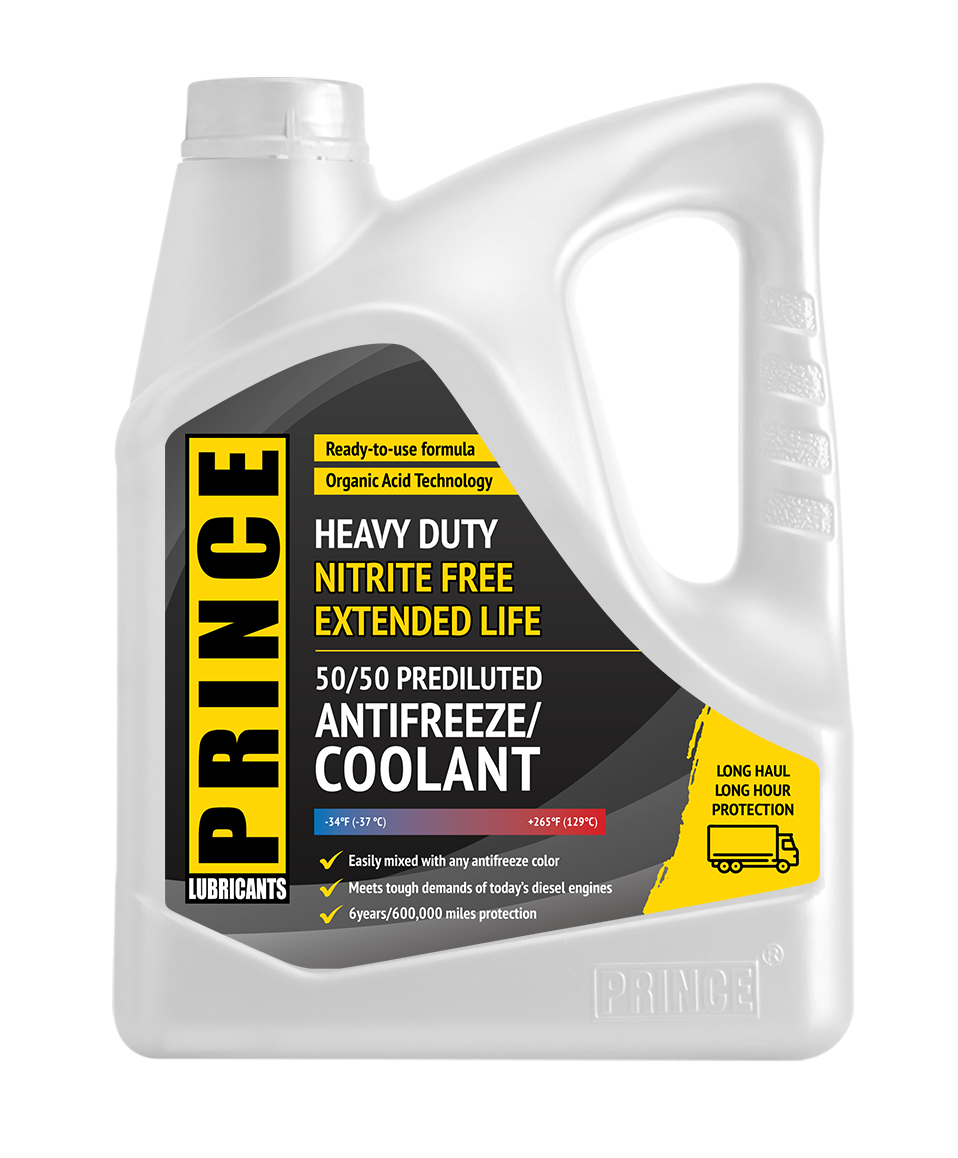 HEAVY DUTY EXTENDED LIFE ANTIFREEZE COOLANT
PRINCE® Heavy Duty Extended Life Antifreeze Coolant is a 50/50 Prediluted, Nitrite Free Extended Life Antifreeze Coolant (ELC) specifically developed to meet the harsher demand of a variety of heavy-duty diesel engines.
Email Us for Quote
This product is formulated with Nitrate Free Organic Acid Technology (OAT) and corrosion inhibitors to protect against boil, freeze, corrosion, rust, scale and long-lasting inhibitors to offer extended protection to 6 years/ 600,000 miles of operation without the need for extender.
This product is recommended for heavy-duty diesel and gasoline engines, light-duty, stationary power and marine applications.
This product is compatible with major long life and ethylene glycol-based coolants. It is backward compatible with any nitrite free OAT coolants.
Exceptional cold temperature/ weather freeze-up and hot temperature/ weather boil-over protection
Maximum protection for all cooling system metals including aluminium
Outstanding protection against cavitation erosion-corrosion
ASTM D3306
ASTM D6210
Ford WSS-M97B44-D
Ford WSS-M97B57-A2
GM 1825M, GM 1899M
Recommends for vehicle manufacturers and assemblies:
Caterpillar, Cummins, Detroit Diesel, Isuzu, John Deere, MB (DBL 7700), MAN, Mack, MTU, Scania, Volvo, VW.
Technology
We engineered oils and fluids with using the highly advanced additive components
Assurance
We guarantee top-tier quality through stringent In-process Quality Control (IPQC)
Network
We have distributing channels and working partners in 25 countries worldwide
Recognition
We are active in various type of race sponsorship, motorsport event and trade fair